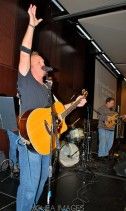 Welcome to the online music home of Doug Slater.  Doug is a singer/songwriter, composer, arranger, and music teacher.  
Doug has shared the stage with great artists and worship leaders such as Matt Maher, Tom Booth, and Ike Ndolo, and has written music with Matt Maher, Chris Muglia, Jaime Cortez.  
Doug is currently working with artists and songwriters to write and produce new music.  
Watch for the new album "Sovereign God" coming soon.  The video is one of the new songs that will be on the studio album which was recorded in Brentwood, TN.  
Great news!  Doug's contemporary worship music is now on CCLI!!!  If you use Doug's music in a worship setting please make sure you report the usage to CCLI, or make sure the CCLI number is added to the song in Planning Center. 
Doug is always looking to meet and work with new artists, and anyone looking to produce, write, and create new music.  
If you have always wanted to write a song for a loved one, family member, or significant other, contact Doug and get more information here. 
In Christ!